Content & Script Writing can be the HARDEST part for business owners, yet it is one of the most important parts of your website:
Content Writing is Very Important to the Success of Your Website!
Cross Media Pros can help you to meet that challenge of SEO Services (search engine optimizing) by supplying customized, unique content that is genuinely interesting to your viewer with high quality content that search engines recognize to be the most relevant for your industry.
Search engines increasingly recognize that the most relevant websites are those that keep up with this demand for unique content.  Optimizing a website may involve editing its content and HTML and associated coding to both increase its relevance to specific keywords and to remove barriers to the indexing activities of search engines.
Internet viewers expect to see high quality, accurate, interesting and informative content and over 95% of all internet users use the internet to find what they are looking for.  It's commonplace now to find just about everything via search engines.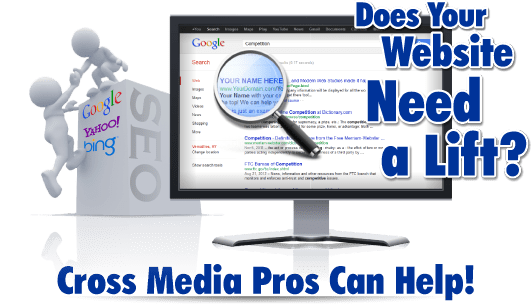 Today, search engine page ranking is now more important than ever.
Cross Media Pros also strive for unique written content on the page, distinguishing it from similar pages competing for placement in the search results. Other factors that determine relevance during a search are the page's keyword density, the placement of the keywords, and the number of links to and from the page from other pages.
The effectiveness of Cross Media Pros SEO work may be measured by the position of a web site on a Search Engine Results Page (SERP) when searching for a certain keywords.  Check out some of the examples to learn more about how we are able to help our customers and save money over the alternatives of paid clicks.
Script Writing for Your Next Project