Website Design Services:
As technology advances it's no longer a matter of "If you have a website" as much as it is, "What does your website say about you"?  Now that we're at a point in society where all businesses understand that having a website today is as important as having a business card was in 1995, people now make a large portion of their decision on how well you represent your product or service and where they find you. 
 If your website is old and not user friendly, hard to navigate, hard to read, cannot be found, looks like it was designed in the early 90's, or simply just doesn't have enough information for your customer, they will continue their search. You need a website that will do all of the above and WOW your customer into action like filling out a contact form requesting a quote or getting on the phone and giving you a call. Our websites are specifically designed and engineered to make that happen.
We can design and build your company website to include elements like: custom menus, multiple pages, photo galleries, Flash graphics, web video, PDF files, fill-in contact forms emailed back to you, search engine submission and search engine optimization to get your website listed higher in Google and other top search engines.

WEBSITE SERVICES:
How Important is the Content that is Written for My Website?
Cross Media Pros knows the importance of developing the correct text content for your web pages. To be indexed higher in search engines, it's necessary to use the correct words and phrases throughout.  In addition, it's necessary to have the correct number of words per page.  Our proven search engine success with clients will allow us to construct your word content to be most effective.  Cross Media Pros also offers web clients the ability to be search engine ready in individual cities and markets.  This way your business or organization can be found by more prospects in a larger geographical area.
We can help your existing website get higher in search engines like Google, Bing, and Yahoo through our (SEO) search engine optimization services.  Cross Media Pros takes your information and writes your content information to utilizing the most effective "keywords" to get your website indexed higher!
CONTENT MANAGEMENT SYSTEM (CMS)
After we have helped you build the foundation of your website (aka: the main structure/template of your Website), and get you started with the content and graphics that's going to go into your website, you as the owner of your website can grow it as big as you want it to be.  Today, you want to add a new page to your website, add graphics, text, forms, or the other easy to add features, like a web video or change the text in your flash animated header, it's as easy with our CMS Content Management System as a click of a button or a couple of easy steps we show you how to do it using our Video Tutorials.  It's just that easy.
Features Included in our CMS:
Create/Delete/Modify Content, including Links, Photos, Text and even add YouTube videos.
UNLIMITED PAGES! The site owner has the ability to add as many pages as they want.
UNLIMITED IMAGES! The site owner has the ability to add as many images as they need.
The site owner has the ability to Create/Delete/Modify unlimited Custom Forms for visitors to be
able to fill out and submit a comment to the site owner or ask a question about their products or services.
Ability to hide pages and even set links to other websites.
Edit your website from any browser, any time, on any computer that has a browser and an internet connection!
A Google Map can be added if your business has a retail/walk-in location.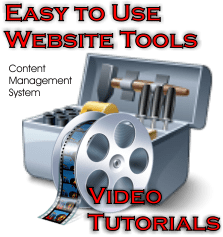 WEB VIDEO CONTENT BECOMES EFFECTIVE MARKETING TOOL!

Web Video content is fast becoming the most effective marketing tool on the internet. Visitors find it engaging and will often distribute links to their friends and followers. Search engines are rapidly evolving and promoting video articles in search results. Until recently though, video was restricted to companies with big budgets: but not any longer.